Cat Visiting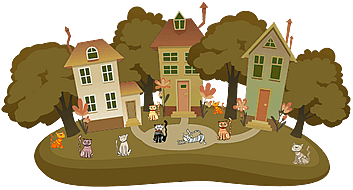 Cat visiting services are the perfect solution if you're going away on holiday, weekend breaks or even if you are away from home unexpectedly.
Cats are creatures of habit and would much prefer to stay in their own environment rather than going through the ordeal of staying in an unfamiliar home or cattery.
Before you go away I will contact you to arrange a home visit, this will allow you to ask questions and for me find out as much detail as possible to ensure your cat continues to receive the same care it has been accustomed too.
Whilst you are away I will visit your home twice a day this will allow enough time to:
Feed your cat
Provide fresh drinking water
Clean, empty or change cat litter
Administering any medication
Give your cat lots of fuss
To ensure you are kept up-to-date with your cat's activities I always complete a brief report for you to read on your return. If you like I can also keep you informed by text messaging or email.
My car doesn't display advertising or branding, so I shouldn't draw any undue attention to your home. As an extra security measure, I am also happy to switch lights on for you overnight at your request.
Nail clipping
I also provide a nail clipping service, how often this is needed will depend on your cat's level of activity or age.
 Cats that mainly stay indoors or do not get much exercise are unlikely to naturally wear their nails down unlike cats that would usually be scratching around outside. Nail growth varies in all cats but as a rough guide, I suggest checking them every six to eight weeks.
Ensure nails do not start to curl under as they can easily start to grow into the cat's pad. This can cause great discomfort, distress and possible infection.
Your cat's nails can be cut during the time of visiting if you wish. If you are not an existing Kitty Daycare customer that's fine, simply contact me online or telephone to arrange a home nail clipping visit.
If you would like me to teach you how to cut your cats nails then contact me to arrange a nail clipping training session in the familiar surrounding of your cats home. I will supply a pair of vet recommended nail clippers and demonstrate how to use them.
We have used the service numerous times over the past two years and the service has always been impeccable. The cats are always happy and healthy when we get back and we love the excellent feedback forms left that detail how the cats have been.
Tracy arranged a meet and greet appointment at a very convenient time and all worked very professionally and smoothly. I could not recommend Tracy highly enough. We will certainly use Kitty Daycare again in the future!
The fact that Tracy is a fully trained vet's nurse gave me peace of mind as I knew the cat would be well looked after and any illnesses would be picked up fast. Tracy provided updates during my time away from the cat and I found these also reassuring.